ECCE :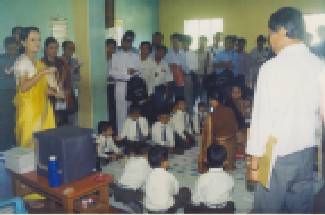 Early Childhood Care and Education (ECCE) and pre school learning are the most important part in improving the environment and participation of Children in formal school. In this part of life, foundation are laid down for all round development of motor, sensory, cognitive, language, social and personalities of a child.
The State Project Office had identified some new centres at the districts for setting up of new ECCE (AWC) centres at the places where there are no such centres.
All the BRCs including District Co-ordinators concerned had been given training facilities for pre-schooling education.
Need based training of AWC/pre-school teachers in all the Districts except Chandel District and Imphal East District have been given for improvement of ECCE.
As per norms of SSA, setting up of Balwadis Centres in uncovered areas is in progress. In some districts, like Senapati, Bishnupur, etc. such scheme is implemented in full swing.
In a meeting of all DPOs, it was discussed at length and resolved to take up necessary action for the following activities as per guidelines and norms of ECCE under SSA :
Strengthening pre-school component in ICDS/ECCE centres by need based training of AWC at the district level.

Setting up of Balwadi Centres in uncovered areas.

Organising training programme of community leaders.

Development of materials including TLM for ECCE related activities.

<![if !mso]><![endif]>

Development of Database on pre-schooling.