Girls' Education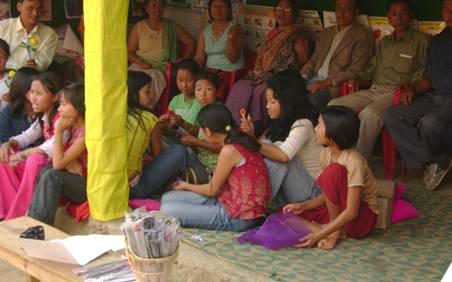 Girls Education is essential for the progress of the society. Through education girls can improve and enhance their personalities and contribute towards the progress of the Society.
The Sarva Shiksha Abhiyan recognizes the need for special efforts to bring the out-of-school girls, especially from disadvantaged sections, to school. This would require a proper identification of girls who are out of school in the course of micro planning. It also calls for involving women through participatory processes in the effective management of schools. The provision for girls' education would have to be designed to address learning needs of girls and relating education to their life. The Sarva Shiksha Abhiyan is committed to making these interventions possible.
It is said that Manipuri women is far better then their counterparts elsewhere, both socially as well as economically. The history of Manipur has proved that Manipuri women can take important roles in any situation at the individual level as well as in groups. Manipuri women are playing different roles at their best. Some of the role can be mentioned:
Domestic Aspect :
Women irrespective of their profession have their priorities in the domestic chores, whether they are working women, women leader, labourer.
Economic Aspect :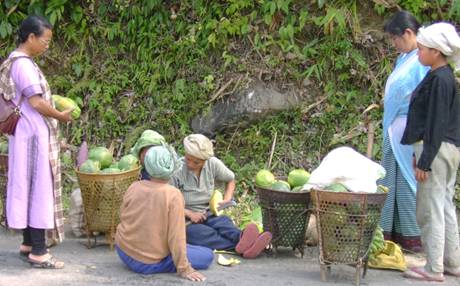 Women in Manipur are economically independent by engaging themselves in handloom and handicrafts, kitchen gardening, silk rearing and yarn making, farming, pottery, fishing, animal husbandry, pan shop, tea and snack stall etc. Ima Market, is the women markets where the buyer and seller are mostly women.
Games and Sports :
The women in Manipur have contributed immensely in various events. They won many medals both at national and international levels.
Social & Cultural Aspect:
Manipuri women are actively involved in fighting against violation of human rights and other social evils. Customs of Manipuri women varied different occasions reflecting the cultural heritage of the state.
Population and Literacy
District

Total

(2001census)

Male

Female

% of SC

% of

ST

Total

literacy %

Male

literacy %

Female

literacy %

Annual Growth rate

1991 - 2001

Bishnupur

208368

104550

103818

1.29

5.30

67.60

79.60

55.70

1.31

Chandel

118327

59741

58586

0.33

85.52

56.20

64.30

48.00

5.62

C.C.Pur

227905

117232

110673

0.17

93.49

70.60

77.70

63.10

2.64

Imphal (E)

394876

198371

196505

3.98

5.81

75.40

85.50

65.30

1.77

Imphal(W)

444382

221781

222601

2.52

3.86

80.20

89.20

71.30

1.44

Senapati*

156513

80230

76283

0.08

84.07

59.80

67.90

51.20

*6.17

Tamenglong

111499

58014

53485

0.04

96.59

59.20

68.70

49.00

2.60

Thoubal

364140

182250

181890

3.76

0.97

66.40

80.40

52.50

2.23

Ukhrul

140778

73465

67313

0.20

93.23

73.10

80.10

65.40

2.58

Overall

2166788

1095634

1071154

2.02

34.41

70.50

80.30

60.50

2.66
Source : Census report 2001
However, gender inequality is also in Manipur. In the table, we have seen the District wise population and literacy percentage of Manipur and the state literacy percentage is 68.87% where male literacy is 77.87 and female literacy is 59.70. It shows that, there is about 20% literacy gap between male and female in all districts.
Women are considered as weaker sex requiring social and economic protection. This attitude has led to a limitation on their mobility and consequent lack of opportunities for development of their personalities.
Women have, therefore, lagged behind in the field of education and skill development. Women have less time for education, preference is given to the male child, girl child helps mother in domestic works.
Women are primarily seen in their roles as mother and wives and not as women in their own right. The status of women is identified by their parents, husband and children. Widow of drug addict or alcoholic or HIV/AIDS, patients is outcast by the society for no fault of theirs. Due to various reasons such as deteriorating law and order situation, poverty, unemployment, low rate of education, lack of infrastructure for development and lack of awareness women are facing problems.
In order to empower women we need to focus more on education, health, income generating facilities and women welfare programme in particular.
With this concept, Residential camps were organized for girls of different communities with the resource persons of different items/ activities. Demonstration, practical activities and exercise were held in the following during 2006-07:
1. Health and Hygiene
2. Food and Nutrition.
3. Some vocational based activities like needle works, flower making, inscent stick making.
4. Participation, Interaction, News reading, singing and other cultural programmes etc..
At present, there is no much difference among the boys and girls in the schooling scenario. However, more than 50% are out of the school at Upper Primary level. In order to retain these children in school at least upto elementary level Education programme may be of such option.
1. Work Education Programme in formale schools and in AIE centres : Most of the girls are engaged in household works and other income generating activities at home as the women takes a major roles in the family economy. In order to enhance the children, short term vocational training course on local based activities may be given along with the education.
2. Incentives like text books, exercise books and materials for works education: At present, children in Government & aided schools are of under privilege/ poverty families. To retained them in school system at least upto class VIII and to achieve minimum level of learning, learning materials may be provided to encourage the children in education.
3. ECCE centre in the school premise: Girls are absence from school due to the siblings care, they will be attend school if the ECCE centre is open in the school premise as well as the working women.
4. Income Generating Programme: The vocational training imparted to the students should be a local suit and the products are of the day to day life of the community, family and student like basketry, weaving, tailoring, knitting, needle works, pottery, plantation and other handicrafts etc.
5. Manual and practical activities: School is the centre of activities of the community. The activity of the community is reflected to the school. Along with the classroom teaching other activities like social service, sports, painting, cultural and educational programmes etc. It will helped in discipline, integrity, friendship, physical fitness, participation and interaction.