INNOVATIVE ACTIVITIES :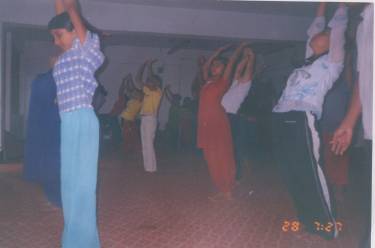 (a) Development of new methods and techniques has been encouraged to achieve Quantity and Quality aspects in elementary education under different activities like ECCE, Girls/SC/ST Education and Computer Education and Rs. 85.75 lakhs was sanctioned for this purpose. Residential camps for girls were held at the district level. Pictorial charts were developed in the local dialects of different tribal communities as a programme of SC/ST education.
(b) ECCE :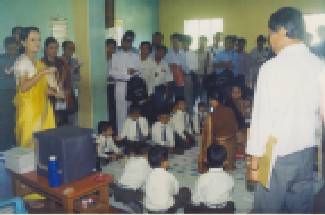 Early Childhood Care and Education (ECCE) and pre school learning are the most important part in improving the environment and participation of Children in formal school. In this part of life, foundation are laid down for all round development of motor, sensory, cognitive, language, social and personalities of a child.
The State Project Office had identified some new centres at the districts for setting up of new ECCE (AWC) centres at the places where there are no such centres.
All the BRCs including District Co-ordinators concerned had been given training facilities for pre-schooling education.
Need based training of AWC/pre-school teachers in all the Districts except Chandel District and Imphal East District have been given for improvement of ECCE.
As per norms of SSA, setting up of Balwadis Centres in uncovered areas is in progress. In some districts, like Senapati, Bishnupur, etc. such scheme is implemented in full swing.
In a meeting of all DPOs, it was discussed at length and resolved to take up necessary action for the following activities as per guidelines and norms of ECCE under SSA :
Strengthening pre-school component in ICDS/ECCE centres by need based training of AWC at the district level.

Setting up of Balwadi Centres in uncovered areas.

Organising training programme of community leaders.

Development of materials including TLM for ECCE related activities.

<![if !mso]><![endif]>

Development of Database on pre-schooling.
6. Integrated Education for Disabled (IED):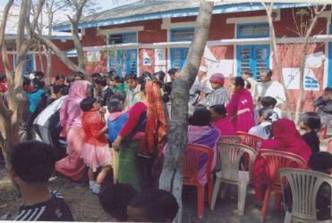 1. Medical Assessment Camp has been completed in all 9 districts.

<![if !mso]><![endif]>

2. Identification of Children with Special Needs (CWSN) has been completed in all 9 districts and so far 7411 children have been identified for the year 2006.

3. 60 – Primary/upper primary teachers have been given 3 – month Foundation Course of R.C.I. Another 20 teachers for the said training programme are underway.

4. A 2-Day orientation programme has been organized for general school teachers at District level in order to orient teachers for effective dealing with disabled children.

5. We have conducted district level one-day workshop in all 9 districts for Awareness and Sensitization campaign of IED to BRP/CRP/VEC/ Teachers.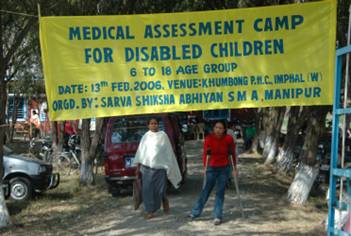 6. Aids and Appliances have been distributed to 551 children with special needs of 5 hill districts. Further, distribution of aids and appliances to 498 identified Children With Special Needs (CWSN) four valley districts is underway.

7. "World Disabled Day" on the 3rd December of every year at the State level is observed.

<![if !mso]><![endif]>

7. Free Text Book :

Under SSA, there is a provision of providing free text books for the SC/ST and Girls Students reading in Classes I - VIII within an upper ceiling of Rs. 150/- (Rupees one hundred and fifty) only per child/student. So, SSA cannot provide all the text books with this small amount. In the year, 2005-06 as many as 2,71,770 SC/ST and Girls Students have been provided free text books under this scheme.

Text books for Classes I – VIII are published only in Manipuri and English medium Some tribal organizations desire to publish text books in their tribal languages but the State Government has no such provision at present. Text books are distributed a bit late in the year 2005-06 due to law and order problem in the State.